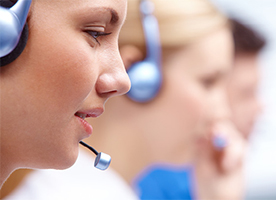 When you need live chat support for your business in the Newport News area, Professional Answering Service is your answer! Call or email us today to learn more!
Customer Support & Live Chat
When Professional Answering Service was first established in 1968, the internet was, at best, a figment of the collective imagination. Today, we live in a changed world. Professional Answering Service has changed with it by keeping up with a wide spectrum of technological innovations and developing new services accordingly. One of these services is live chat support.
Live chat support is a great option for companies who want to provide their customers with another avenue for support. Online chat service also brings a human element to websites and is great for customers who aren't comfortable talking on the phone.
Benefits of Live Chat for Businesses
Some other advantages of live chat service include:
Fast problem resolution: When a live chat support representative is able to interact with a customer in real time, it is like working with a friend. Chat service professionals can help complete sales, resolve issues, answer questions, and more.

Convenience: When customers are on a company website, it means they are already interested in a specific product or service. The presence of a live chat customer service team may mean the difference between a customer who leaves the site empty-handed and one who makes a purchase.

Improved loyalty: No matter what they are shopping for, all customers like to know they can get the help they need without a lot of hassle. When online chat service is just a click away, that makes for higher satisfaction overall!

Research: Live chat support services can also give your customers a voice. This will not only help them resolve their questions and issues, but help companies identify aspects that can be improved.
Professional Answering Service coordinates with our clients and their clients' web designers to fully integrate all necessary technologies and create a seamless customer service chat option. We fully train our representatives to handle all customer needs. Further, we only hire individuals with proven-effective customer service and communication skills to be our live chat service providers.
24/7 Website Chat Services
The internet is open 24 hours a day, seven days a week—and so are we. With our help, your customers can receive answers about your goods and services at any time. To learn more about the advantages of our customer service chat support and how we are able to continuously deliver success, call or email Professional Answering Service today. We proudly serve Newport News, Hampton Roads, and beyond!